Tím študentov (Rudolf Bruchánik, Oliver Kamenský, Jakub Viater a Marek Pavlov) študijného programu Bankovníctvo Národohospodárskej fakulty EU v Bratislave pod vedením doc. Ing. Jany Kotlebovej, PhD. z Katedry bankovníctva a medzinárodných financií opätovne overoval svoje schopnosti na svetovej súťaži Rotman International Trading Competition, tentokrát na jej 15. ročníku, ktorý sa konal v dňoch 22. – 24. februára 2018 v Toronte (Kanada).
V rámci silnej konkurencie 52 renomovaných univerzít sveta zameraných na kvantitatívne financie a matematické programovanie obsadili 7. miesto v rámci štúdie S&P Global Quantitative Outcry pri obchodovaní futurít na indexy, 10. miesto v rámci štúdie Matlab Volatility Trading v obchodoch s opciami na volatilitu ETF, ktoré kopíruje akciový index a 14. miesto v rámci štúdie Fixed Income zameranej na riadenie portfólia s podnikovými a štátnymi dlhopismi. Študenti si overili svoje schopnosti aj v obchodovaní na spotovom a futuritnom trhu s ropou v rámci štúdie BP Comodity, pri riadení rizika likvidity v obchodovaní s ETF v rámci štúdie Flow Traders ETF ako aj pri programovaní vlastného algoritmu v obchodovaní s použitím Excel VBA v rámci štúdie Schonfeld Algorithmic Trading. Celkovo sa umiestnili na 18. mieste.
Oproti minulému ročníku, kedy získali 14. miesto v rámci štúdie S&P Global Credit Risk a celkovo 32. miesto, tohtoročné výsledky znamenajú výrazný kvalitatívny skok vpred, pričom zo zúčastnených univerzít z Európy sa umiestnili na 3. mieste po Luiss Guido Carli University of Rome (Taliansko) a University of Cambridge (Veľká Británia) a v rámci celkového umiestnenia za sebou nechali tímy z takých univerzít ako napr. Princeton University (USA), City University of Hong Kong (Hong Kong – Čína), University College London (Veľká Británia).
Týmto si dovoľujeme študentom srdečne zablahoželať k ich výbornému výsledku a dúfame, že táto skúsenosť bude motivovať aj ďalších študentov dosahovať stále vyššie profesijné ciele.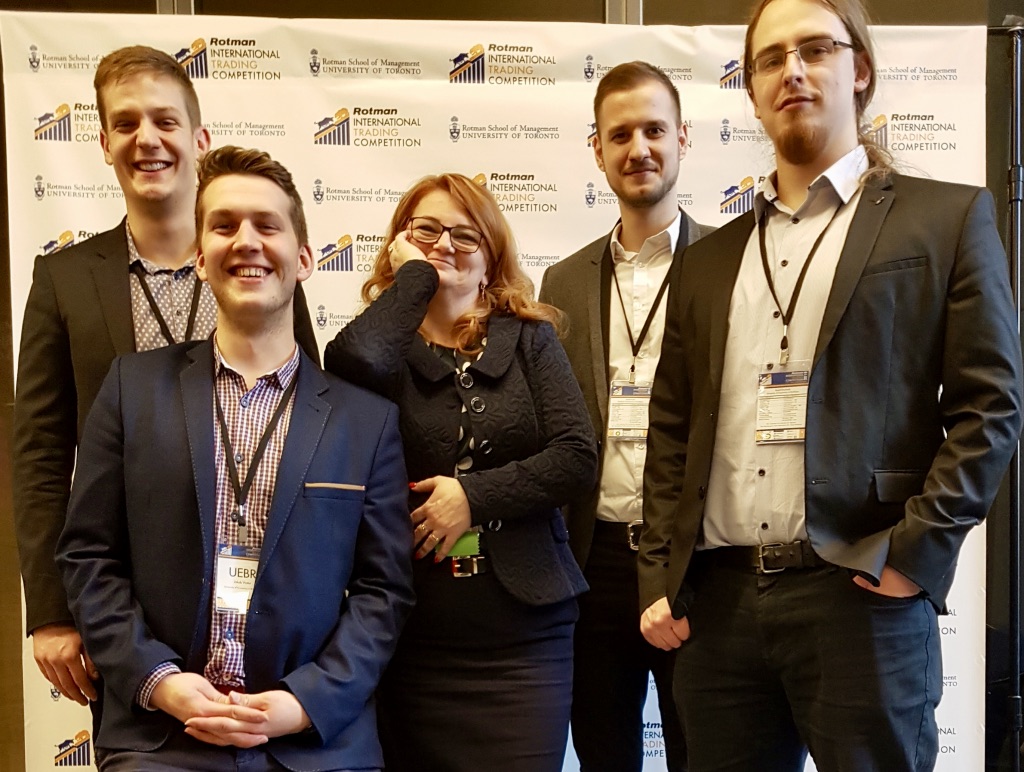 Zľava: Oliver Kamenský, Jakub Viater, Jana Kotlebová, Marek Pavlov, Rudolf Bruchánik